Feature archive
The Run 79 Lake Tekapo MTB Pursuit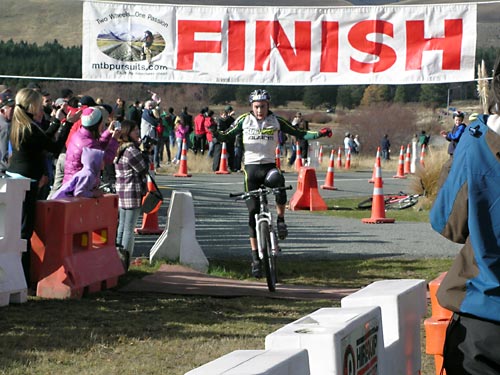 James Williamson, winner of the 2007 Run 79 MTB Pursuit, crosses the finish line.

The Godley River Crossing on the 2007 Run79 MTB Pursuit race.
On the first Sunday of June, hundreds of mountain bikers from around New Zealand and the rest of the world, descended on Lake Tekapo for the Run79 MTB Pursuits mountain bike race around Lake Tekapo. The race route takes in over 83km of some of New Zealand's most spectacular alpine and rural scenery.
The race started several years ago with a couple of hundred competitors, but has grown in a short period of time to around 1,000. As the route is around a lake, it does not feature any large climbs. The race starts at 720m above sea level in Tekapo village. The river crossing in the Godley is at approximately 750m above sea level. Throughout the entire course, the maximum variation in height is only 96 metres.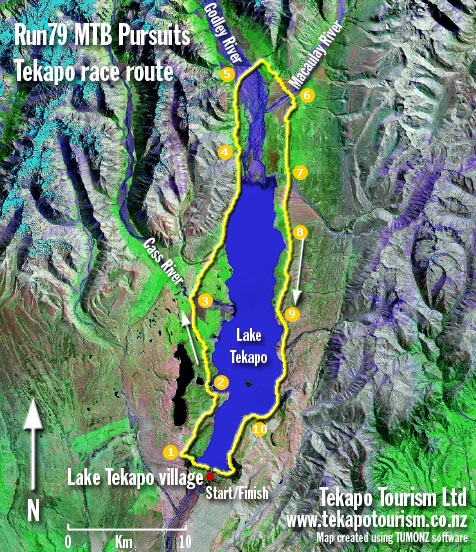 Due to the popularity of the race, accommodation in the Mackenzie is difficult to find. Competitors booking late often have to stay up to an hour away from Tekapo due to the local accommodation being 'booked up' early in the year.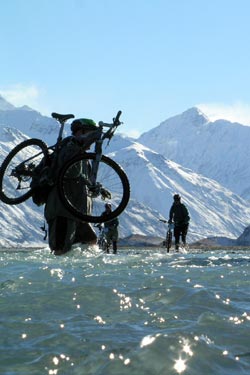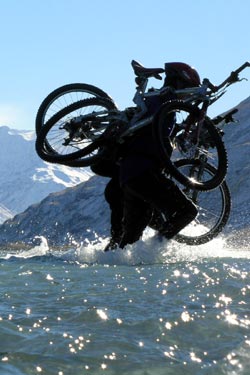 Crossing the Godley River after overnight snow in 2004
The race is organised by the local adventure business, MTB Pursuits. The husband and wife team, Peter and Margaret Munro, organise and operate several mountain bike races in the Mackenzie.
Visit www.mtbpursuits.com for more information
View our Feature Archive for past features on Lake Tekapo
© Copyright Tekapo Tourism Ltd