Lake Tekapo Activities
Air Safaris and Services

Air Safaris operate breath taking scenic flights around the Mt Cook (Aoraki) and Westland National Parks. The flight contains views of New Zealand's highest mountains, twelve major glaciers and 200km of alpine and rainforest scenery unique to New Zealand.
Dark Sky Project Astronomy Tours

On the summit of Mount John, high above Lake Tekapo, operates a scientific astronomy observatory. Earth and Sky conduct both day and night tours of the facility, including the operation of its own telescopes and a cafe on the very summit.
Tekapo Springs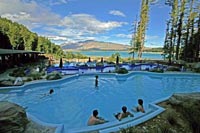 Nestled into the base of Mount John, overlooking Lake Tekapo and the mountains beyond is the Tekapo Springs, and its Winter Park. Heated alpine water supplies four large, outdoor, public hot pools. A health spa, complete with massage facilities is a great way to lose stress.
Mackenzie Alpine Horse Trekking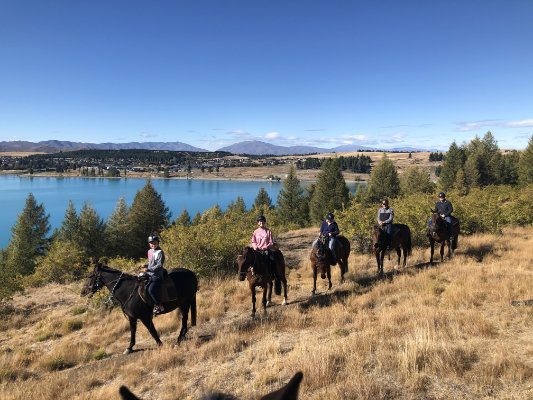 The friendly staff at Mackenzie Alpine Horse Trekking offer a variety of horse treks in the local Tekapo area. A selection of treks is available to suit the many requirements of Mackenzie Alpine Horse Trekkings's customers.
Alpine Recreation - Trekking - Alpine and sub-alpine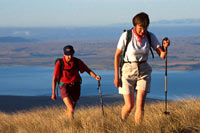 Hike above worry level in the foothills of the Southern Alps. Be inspired by the magic light of the Mackenzie High Country across golden tussock, snow-capped peaks and the turquoise of Lake Tekapo.
Tekapo Adventures - 4WD high country tours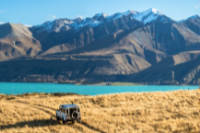 Discover the impressive natural beauty beyond Tekapo lakefront for unique photography opportunities and an experience of the Mackenzie High Country wilderness, situated in the heart of New Zealand's iconic scenery.
The Cairns golf course and Le Stables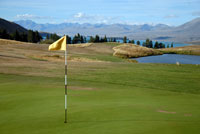 The 9 hole Cairns Golf Course originates at the stables - Le Stables - of the historic Mount John Station.
Designed by Barry Johnston and Simon Forshaw, the course follows the unmodified contours of the glacial moraine, come high country run.
---
Activities listed courtesy of Tekapo Tourism
Hunting - Mid Southern Tracks
Address:
14 Pioneer Drive, PO Box 2, Lake Tekapo
Phone:
+64 3 6806774
Fax:
+64 3 6806713
Email:
info@44south.com
Description:
Tahr, chamois and deer roam the hills and mountains of the Mackenzie Country. Your hosts have access to some of the best hunting terrain in New Zealand.
Golf - Golf cross
Location:
Braemar Station on the eastern shore of Lake Pukaki
Address:
PO Box 62, Lake Tekapo
Phone:
+64 3 6806844
Fax:
+64 3 6806845
Email:
brae-mac@xtra.co.nz
Description:
Cross golf with rugby and you have golf cross. Instead of holes there are goals and the ball is still small, but is oval. Only 30 minutes from Tekapo and located on the shores of Lake Pukaki with spectacular views of Mt Cook (Aoraki), GolfCross is a great game for family and friends.