Guestbook
Add your own comment to this page by emailing

Due to the amount of spam we receive, the address is not a "link" and will have to be typed into your message manually.
Tekapo is just an awesome place. We went there in late August/early Sept 2009, and we had a go at the outdoor skating rink... it was great fun. Even better, as we skated, snow began to fall, making it even more memorable! Looking at the webcam now, there's been another dump of snow (25cm in town I believe) to add to the other falls about 10 days ago. A true Winter wonderland... I can't wait to get back there!
James
Brisbane
Web-cam is great! Nice to see Lake Tekapo is just as beautiful as it was when we visited 10 years ago
Andy & Mina,
Japan
Hello from Cairns, North Queensland - Australia.
We stayed at Lake Tekapo five times and we loved it very much. Most pretty scenery in the world. I hope to go back soon.
Ruth and Keith,
Cairns, Australia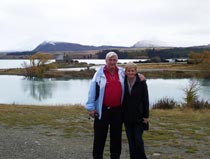 My wife Jenny and I travelled to Lake Tekapo on the 5th May 2009. When we arrived at the Godley Motel it was dark but WOW what views we had of the mountains that surrounded us looking from our Lake View Room. It was freezing cold but the hospitality at the local Japanese Restaurant and our Motel was superb. Waking in the cold of the morning we saw the beautiful lake again, the mountains that were covered in snow and the turquoise lake. After a magnificent buffet breakfast we then visited the Church of the Good Shepherd which really opened our eyes at this wonderful church. Many photos were taken and then to the Statue of the Collie Dog, a wonderful gesture to this friendly village. It was funny when we arrived as I asked "Are there any McDonalds or Kentucky Fried Chicken outlets here" The reply of course was "There is none here, this is the shopping area". My wife and I had a chuckle. Just a cosy friendly restful village and no doubt we will be back. One night and day not enough.
Mark Conway
Thornton NSW Australia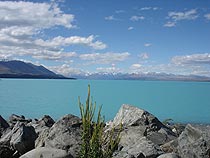 I visited New Zealand with Red Carpet Tours on a Lord of the Rings Movie Location Tour in December of 2004. I took this picture standing near the Church of the Good Shepard. It is the most beautiful picture I have ever taken and thought you might like it for your website. I'm not a professional photographer and it's quite amazing that I was able to snap this shot. These modern digital cameras are astounding!
Carol Reed
Phoenix AZ, USA
Fabulous views from this most comfortable apartment [Pioneer Tourist Flat]. Excellent location - quiet, yet within walking distance of the shops etc. Sheila and Bill are just delightful hosts and I thoroughly recommend this establishment.
Tracey Langmuir
Invercargill New Zeland
We stayed at The Chalet Boutique Motel on our honeymoon in December 1999. It was the highlight of our trip. We loved the place and the view. Lake Tekapo is stunning. The Chalet was the most charming and beautifully-maintained hotel on our honeymoon. Someday, we hope to return for our second honeymoon. Probably with the kids.
Glenn and Geraldine Ang
Singapore
Like many others we too stayed in the Chalet apartments, opposite the magnificent lake. Scenery surrounding was stunning. Apartment very comfortable. Attention paid to the little details to ensure a delightful stay for the guests. Owners generous in those small details. I would definitely return here and recommend it to friends. Walter was quite interesting to chat to.
Wendy
Melbourne Australia
We visit Lake Tekapo every winter to ski, walk and generally relax. We never tire of the spectacular scenery. Tekapo is peaceful and very friendly. The walk up to Mt John is most rewarding with the 360 degree views at the top. We ski at Roundhill as it is small and friendly. The slopes are never crowded and, again, the views spectacular. Have just discovered your live webcam site and will be watching from now on. Cannot wait to return next winter.
Peter & Rosemary Sherwin
Taralga Australia
Hello, on April 26 2006 I sent a message to you. It was very kind that you did react. At that time the webcam was just installed and you were testing it. I must say you did an amazing job because the view is overwhelming. Very good contrast and lively colours!! Makes me long to come back to your magnificent country (and the lovely people). In 2002 I made a flight with Air Safaris over the Southern Alps, one of the highlights of my 1 month stay. If it would be possible to fall in love with a country, well then I did with yours. Thank you very much for giving me a part of that feeling again. It gives me the shivers... I wish you a very fine day, thank you again! Most kind regards,
Frank Nelissen
Bree Belgium
Hi everyone there, I just want to congratulate you on the interactive web camera you have set up on the mountain. As an astronomer, who has spent time working at the observatory (MOA Observer 2000) I am often viewing your webcam to see your current skies and get an idea of what is headed towards Chch for the night. Especially at the moment [24th Jan 07] with Comet McNaught so bright in the sky. Thanks very much for the great innovation. Clears Skies
Ashley Marles
Christchurch NZ
My husband, 7yr old son and myself spent new year's eve 2006 in the Grandview B&B at Lake Tekapo. It was absolutely beautiful and we thoroughly enjoyed our short stay. It was a very comfortable and quiet residence but within walking distance of the village restaurants/bars and of course the lake. We thoroughly recommend it and the hosts were lovely people.
J Yates
Australia
My husband son and I were fortunate to do a 18 day tour of New Zealand in September 2006, our first overseas trip and what memories we will keep. Your country has so much beauty and we hope to return one day in the future
Maureen & David Turner
Elizabeth Downs Australia
Thank you for the hospitality. We had an extraordinary stay at The Chalet. The room, the breakfast, food everything was just perfect. Of course all the activities Biking, Ski-Tour Hiking and Flying what more do we want - please remember you live in paradise. Iris and I are still talking.
Robert Rickenbach
Thousand Oaks USA
What a great site!! We visited this area and camped with family (resident in Christchurch) when on holiday in Jan 06. Great memories and interesting to see the lake in a different season.
Brian Crocker
Barham UK
[The Chalet Boutique Motel] You are greeted by friendly staff who make you feel like part of the family. Feel the stress melt away and relax while looking at Lake Tekapo through the large windows. Just perfect, Thanks
Kerri Schulz
Brisbane Australia
A wonderfully comfortable [Pioneer Tourist] flat with stunning views of beautiful Lake Tekapo. Our stay was enhanced by Sheila and Bill with all their local knowledge and hospitality. Would love to return. Highly recommended.
Derek Baynes
West Moors Ferndown United Kingdom
Hi Lake Tekapo,
Just wanted to thank you for your brilliant webcam. I have been waiting for some snow to fall before flying over from Queensland, so when I saw some snow in your webcam shots and had 4 days free, I jumped on an Air NZ jet. I drove from Christchurch to Tekapo and went up to see the Observatory [Earth and Sky], which I didn't even know existed. Brilliant 360 degree views, loved it. Drove on to Mt Cook (my third visit since 2002), stayed for a few hours and then drove onto Queenstown. Stayed there 2 nights and then drove back to Christchurch and flew home. A short trip, but just loved it again. You have the most beautiful country in the world, don't let anyone spoil it !! Cant wait to go back again.
Shane Muhling Wamuran
QLD Australia
We travelled from England to Lake Tekapo to get married on the 1st March 2006 at the Church of the Good Shepherd. What a wonderful place. Scenery fantastic and people very friendly. Our stay at the [Lake Tekapo] Grandview Lodge was perfect and Rosemary looked after us very well on our big day. The Church is outstanding with stunning views over the lake. Pip the local photographer was great and the pictures are fabulous. We will be back for our anniversary and would love to retire there. Thank you so much for the webcam we are always on the site it brings back all our happy memories.
Jon & Sandy King
Laddingford England
Recently (March 06) my wife, mother and I had the absolute pleasure of visiting Lake Tekapo and staying at Parkbrae Estate. What a fantastic stay we had in the Garden cottage. Although we only stayed one night, we managed to tour their wonderful gardens and relax by the log fire in what was beautifully presented accommodation. I hope we have the opportunity of returning to this area some time in the future for a slightly longer stay. We would recommend Parkbrae Estate to anyone who enjoys fabulous scenery, quality accommodation and friendly hospitality.
John Doherty Helensburgh
NSW Australia
We stayed in your fine motel [The Chalet Boutique Motel] in 2000. We loved it and were most impressed with our accommodations. We are now recommending it to friends who plan to visit New Zealand.
Al & Alma Liske Anacortes
WA USA
Thanks so much for the webcam, our children are staying at Lake Alexandrina on the other side of Mt John so it's great seeing the weather there daily. They go there every year for the fishing & beautiful night skies and especially love spotting the satellites. They chose to go there over any other world destination!
Kay & Alex Ostermayer
Killara, Australia
I have never been to New Zealand before but I really want to live there! I have been doing a project and have found this site very informative and it has inspired me even more to want to go! One thing I will do in life will be to go to Lake Tekapo and that is because of your site. Thank you
Sarah Anslow
England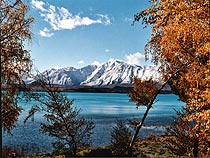 I spent a year in New Zealand last year and had a great time, I specially enjoyed my time around the lake Tekapo. I took a lot of photos during my trip and specially in the lake Tekapo. I really like one of them. I send it to you. Take care of this stunning landscape.
Ludovic Gautier
France
My wife, our son and I stayed in a house just opposite O'Neill Place in Feb 2005, and we ate in the pub. Very comfortable house and very nice food and beer.
Eddie Plummer
United Kingdom
What a fantastic place to stay - the rooms are relaxing and unique in design. Zita and Walter are perfect hosts always going out of their way to accommodate the wishes of their guests. The views are indescribable and just another reason to enjoy the hospitality of The Chalet Boutique Motel.
Jackie Codyre
Christchurch
In deze omgeving kom je als Hollander weer tot rust. en kan je naar jezelf luister. Jammer als je weer terug moet naar ons gestreste Europa.
[In these surroundings as a Dutchman you can relax. You can listen to yourself. A pity you have to go back to our stressed Europe.]
Ab en Wil van Vliet
Amsterdam Netherlands
Anton and I were received royally, though in a tired and ragged condition, by the lovely Jenny. We were welcomed warmly and shown to a sumptuous suite where we slept soundly. What impossibly beautiful views we awoke to and what beautiful weather Tekapo can turn on in the first week of Autumn! All glammied up for our wedding, Jenny, two of her charming Canadian guests and we toddled off down to the lake's edge to enact our beautifully prepared nuptials. Then, back to the gorgeous Tekapo House for a wonderful champagne breakfast hosted by Jenny and her husband Peter. What is left to say? We will always be heartened to remember our very special stay with the warm and delightful Raynes.
Anton and Nicola
Wisse Australia
Have stayed at the Chalet Boutique Motel twice now and can't wait to go again. Right on the lakeshore, this is a stylish accommodation of just a few units. Very comfortable, with exceptionally friendly and helpful hosts. Highly recommended.
Gordon Chamley
New Zealand
My wife Elly and I stayed at The Chalet [Boutique Motel] on our first visit to NZ, in Oct 2003. Have just booked to spend two nights when we return to the South Island in March 2006. The Chalet and Lake Tekapo are simply magical. We remember watching the stars against the ink black sky. Sheer peace!! Wonderful
David A.
United Kingdom
Stayed in Tekapo Queens Birthday weekend 2005. We were there to do the 90km Run 79 mountain bike race around the lake. What an excellent weekend. The weather was perfect. A great ride & the accommodation was a house rented from Jenny & Peter Rayne. A most comfortable and warm house with great views. With hospitality like this, we'll be back in 2006.
Larry & Lynette Rayner
Blenheim NZ
I totally love the Tekapo webcam and the improvements you keep making! Thank you so much. I live in Florida in the US and I've been to NZ twice in the past two years. I have fallen in love with it and hope to retire there one day. But until then I can visit everyday via your wonderful webcam and watch the seasons change.
Michele Maro
Florida USA
Congratulations on this web site which I read about in the NZ Stuff online this morning. Wonderful to have the webcam at Mt John- now we can check out the weather at Tekapo and pass it on to guests and visit more often ourselves! A lot of work to get all this info in one spot. Again, Congratulations!
Liz Angelo, Trustee
Burkes Pass Heritage Trust
We have had the good fortune to stay in the Pioneer Tourist Flat and found the accommodation to be all we could hope for being warm, clean and comfortable. The views across the lake to the mountains will stay with us forever. Shiela and Bill are excellent hosts. We would recommend the Pioneer Tourist Flat to people wanting over night or longer stays.
Steph and Terry Forsyth
Christchurch New Zealand
The most wonderful view I have had in a long time was the one looking out the window of the Church of the Good Shepherd towards the mountains. It was quite nostalgic for me as I have been raised in the mountains of Canada and I love the life and the country that surrounds mountain living. Then there is that statue to a wonderful dog. I know they are wonderful as I used to own one or two. Thanks for the memories!
Mrs.Val A.Daem
Prince George/B.C. Canada
© Copyright Tekapo Tourism Ltd